C Program to replace lowercase vowels to uppercase in a string
Here is the C program to replace lowercase vowels to uppercase in a string
#include<stdio.h>
#include<conio.h>
void main()
{         char str[200];
           int i=0;
           clrscr();
           printf("Enter a String:");
           gets(str);                      // can also use fgets(str,200,stdin);
           printf("Actual String:");
           puts(str);
           for(i=0;str[i]!='\0′;i++)
           {         if(str[i]=='a' ||str[i]=='e' ||str[i]=='i' ||str[i]=='o' ||str[i]=='u')
                      {          str[i]=str[i]-32;            //to convert lower case vowels to upper case
                       }
            }
            printf("Converted string:%s",str);
            getch();
}
Output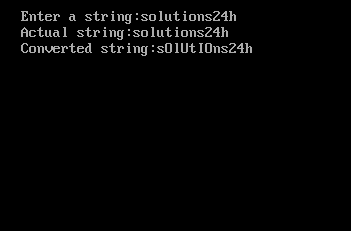 Logic of program
The vowels(a,e,i,o,u) in lowercase can be converted into uppercase by using the logic of ASCII value.
The ASCII value of lower characters(a-z) is 97-122 respectively and uppercase character(A-Z) is 65-90 respectively.
So here it is clearly seen the difference in ASCII values of lowercase and uppercase characters is 32.
So if the 32 is subtracted from the ASCII value of lowercase charater than it can be converted into uppercase character and vice-versa.
The loop used i.e for loop which will go to every single character of the string starting from i=0 to the null character('\0').
If is used for making a condition that if the character in a string is vowel than it will follow the condition written in it and will convert it to uppercase.